Survey design
---
Payment Practices Barometer | Americas
Objective
---
Atradius conducts annual reviews of international corporate payment practices through a survey called the 'Atradius Payment Practices Barometer'. In this report focusing on the Americas, which is part of the 2019 edition of the Atradius Payment Practices Barometer, companies from four countries (Brazil, Canada, Mexico and the USA) have been surveyed. Due to a change in research methodology for this survey, for some of the current results, no year-on-year comparison is feasible.
Using a questionnaire, Conclusr Research conducted a net of 837 interviews. All interviews were conducted exclusively for Atradius, without any combination of topics.
Basic population:

companies from four countries (Brazil, Canada, Mexico and the U.S.) were monitored. The appropriate contacts for accounts receivable management were interviewed.



Selection process –

Internet survey: companies were selected and contacted by use of an international Internet panel. A screening for the appropriate contact and for quota control was conducted at the beginning of the interview.
Sample:

N=837 people were interviewed in total (approximately n=200 people per country). In each country a quota was maintained according to three classes of company size.



Interview:

Web-assisted personal interviews (WAPI) of approximately 15 minutes duration. Interview period: Q2 of 2019.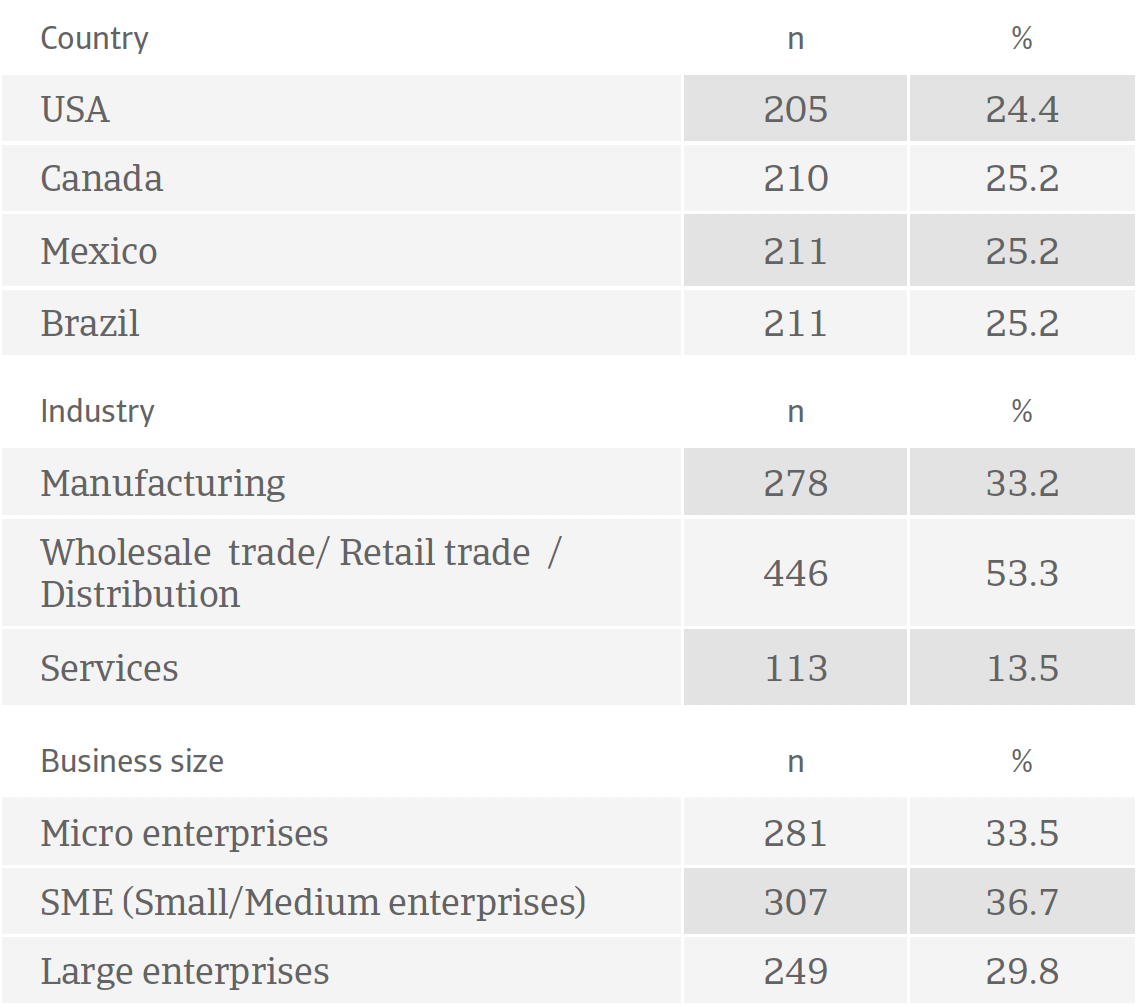 Sample overview
---
It may occur that the results are a percent more or less than 100%. This is the consequence of rounding off the results. Rather than adjusting the outcome so that it totalled 100%, we have chosen to leave the individual results as they were to allow for the most accurate representation possible.
Statistical appendix
---
Find detailed charts and figures in the Statistical Appendix for the Americas. This is part of the June 2019 Atradius Payment Practices Barometer, available at www.atradius/com/publications